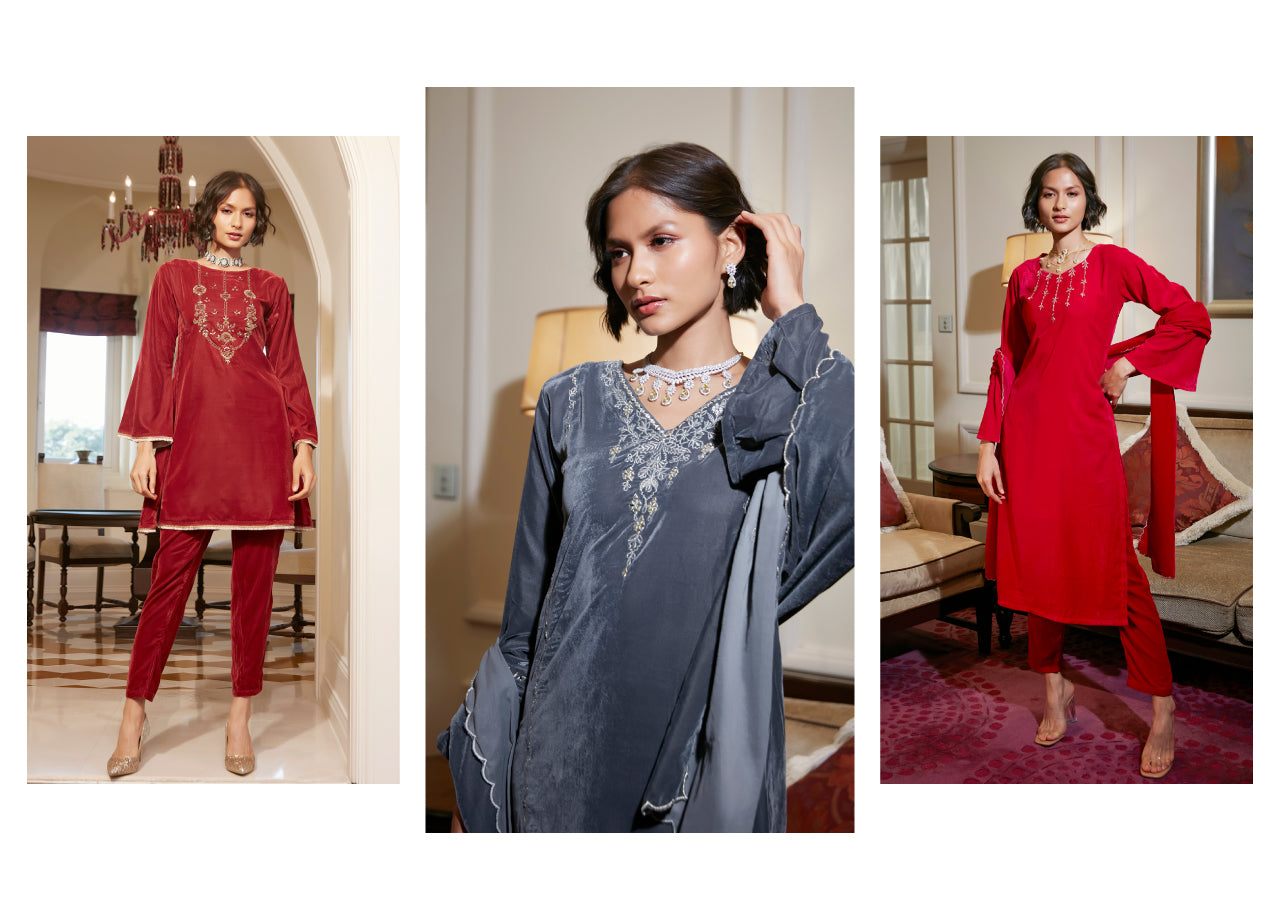 Wedding Season Is Here! Let Raisin Help You Out With Your Last-Minute Outfits
An Indian wedding is a grand affair. With two souls and families uniting to form an eternal bond, there also happen to be a lot of ceremonies that take place before the D-day. 
The common ceremonies include Haldi, Mehendi, Sangeet, and of course the Wedding at day or night. We are sure that you will also be invited to at least one of these big, fat Indian weddings and the different pre-wedding ceremonies. 
But what will you be wearing? 😨
Worry not! Here's a detailed guide! 😊
In this blog we are recommending outfits from the wide collection of Raisin for all of the ceremonies. 
So read the blog till the end and go straight to the mentioned links to wishlist your favourites from among them, add to your cart instantly at the best discounted prices, and make them yours by buying them instantly. 
Don't wait or the opportunity will be missed! 💃
Indian Wedding Attire For Guests
We are going to recommend Raisin outfits for every ceremony. Let's start! 
1. Mehendi : Raisin has picked designer outfits for the mehendi ceremony
In the Mehendi ceremony, Henna is applied to both the bride and groom. This is done not just to make the hands look beautiful, but it also brings good luck to the couple. 
Get into the henna colour and celebrate your loved one's happy union with their divine counterpart in these outfits from Raisin's premium banarasi silk dresses. 
What's special about our Aika collection? 
When Banarasi Brocade fabric meets a modern silhouette, magic happens. This collection connects you to your roots, which makes it even more special. 
1. Green Outfit for Mehendi  :
Perfect outfit for your best friend's mehendi ceremony.  
2. Mehendi Outfit for Bridesmaid  :
Wear Raisin's Pink Banarasi Blazer with Pant &  Groove on this song 
Mehandi hai rachne waali, Haathon mein gehri laali... 
Kahein sakhiyaan ab kaliyan, Haathon mein khilne waali hain...
Tere man ko, jeevan ko Nayi kushiyaan milne waali hain….
The next ceremony involves applying haldi to the couple. The significance behind this ceremony is to not only give them a natural glow, but also to purify them before the holy matrimony.
Why don't you also get in on the fun vibe of this ceremony with these pieces from the HEER collection?
What's special about our Heer Collection?
This collection will give you all the vibes of a big, fat Indian wedding, as it is specially curated for festivities like this.
1. Haldi Dress For Bride Sister :
Grey is the new yellow this wedding season. Use contrasting colour blocking technique to style differently. 
2. Unique Haldi Outfit  :
The Embroidered A line Kurta Pant Set is the perfect pick for the haldi. Nowadays brides are trying colours beyond traditions. If you are also looking for the same, try this. 
3. Haldi Outfits for Bridesmaids  :
Get ready bridesmaid with the plain velvet embroidered kurta set for your best friend's wedding.
Okay, This ceremony is the most fun. Sangeet sets the mood of the wedding, with all the family members gathering together to sing, dance, and have fun. 
Sing your heart out and stick to the dance floor, dancing like a peacock in this beautiful attire from the Festival Arrivals category.
What's special about this Festive & Occasional wear collection? 
Specially curated to bring the fun vibe of any kind of festivities, this collection will make you the start of any festivity. 
1. Day Sangeet Outfit For Guests  :
Want to recreate an elegant ethnic look ? Then, do check this out!
3. Wedding Outfit For Bride 
Wedding day is a big day for both the bride and groom and, of course, their respective families. The wedding day is fun as well as an auspicious and pious occasion. 
This holy union should be celebrated without any limits to both fun (while doing joota churai or chupai) and fashion (looking stylish while doing this fun activity).
So why don't you get dressed in this pretty pick from the Wedding collection? 
These pastel coloured lehengas have once been the most favourite attire of people for occasions like weddings and as this trend has made a comeback, who wouldn't be happy?
What Are You Waiting For? 
Join in the joy of your friends or family members entering into the everlasting bond of marriage by witnessing them exchange vows with their partner. 
Whereas we at Raisin have vowed:
"To have and to hold, in sickness and in health, till death do us part" for you so that you can face the world with confidence every day. 
So go and instantly wishlist all your favourite pieces and buy them quickly to not miss out on the chance of getting the best deal. Hurry! Buy now!