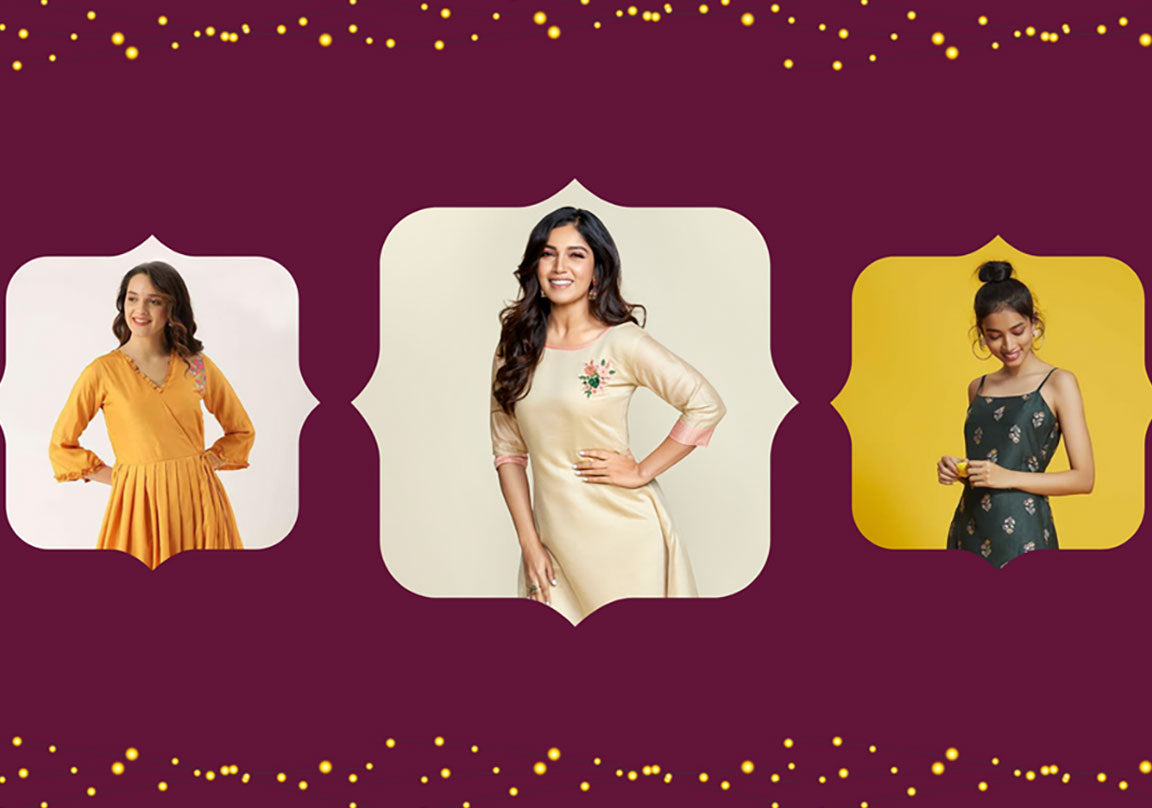 Looks inspired from your favourite Diwali sweets
Diwali is round the corner and the festivities are about to begin. This means it will be days of feasting on our favourite Diwali sweets and food. While we all will be racking our brains on how to get that 'hatke' look for this festival season, we thought to inspire our Diwlai looks from our favourite sweets!
Raisin's festive edit guidebook has looks that fit our favourite sweets perfectly.
Look-1: Kaju Katli:

Kaju Katli is an Indian delicacy that is widely consumed during Diwali. Also known as kaju barfi, this Indian dessert has a layer of beige/off white covered with silver or sometimes golden hues from saffron. Our pick inspired from this look has natural colour tones with a drapey look. The simple yet stunning outfit has a layer of another colour with work that blends in perfectly with the base. This effortless look also happens to be Bhumi Pednekar's pick for this season!
Look- 2: Soan Papdi:
Soan Papdi is another Diwali favourite. It is often exchanged in Diwali hampers or sweets. It has a flaky and yellowish shade to it. The pleats of our A-line dress remind us of the multiple layers similar to those in soan papdi. The satin-silk fabric gives the outfit a sheen and adds that extra festive element to it. You can style it with complementing statement earrings and fingers. 
Look-3: Anjeer Ki Barfi:
Anjeer Ki Barfi is another savouring delicacy made with multiple ingredients. This dessert is not only rich in texture but is also filled with multiple ingredients including pistachios, nuts etc. 
What inspired our kurta set for this look is the rich, deep colour of the outfit and the golden embroidered prints. It gives a classy vibe and seems to fit perfectly to the festive vibe.
Here are three looks that will win hearts and turn eyes this Diwali. Who knew we could get inspired from our favourite desserts! Raisin's collection is a perfect fit to your what should I wear this Diwali puzzle. 
So, go ahead savour and wear these outfits that are now available at FLAT 30% OFF. You're Diwali probably can't get any sweeter than this!