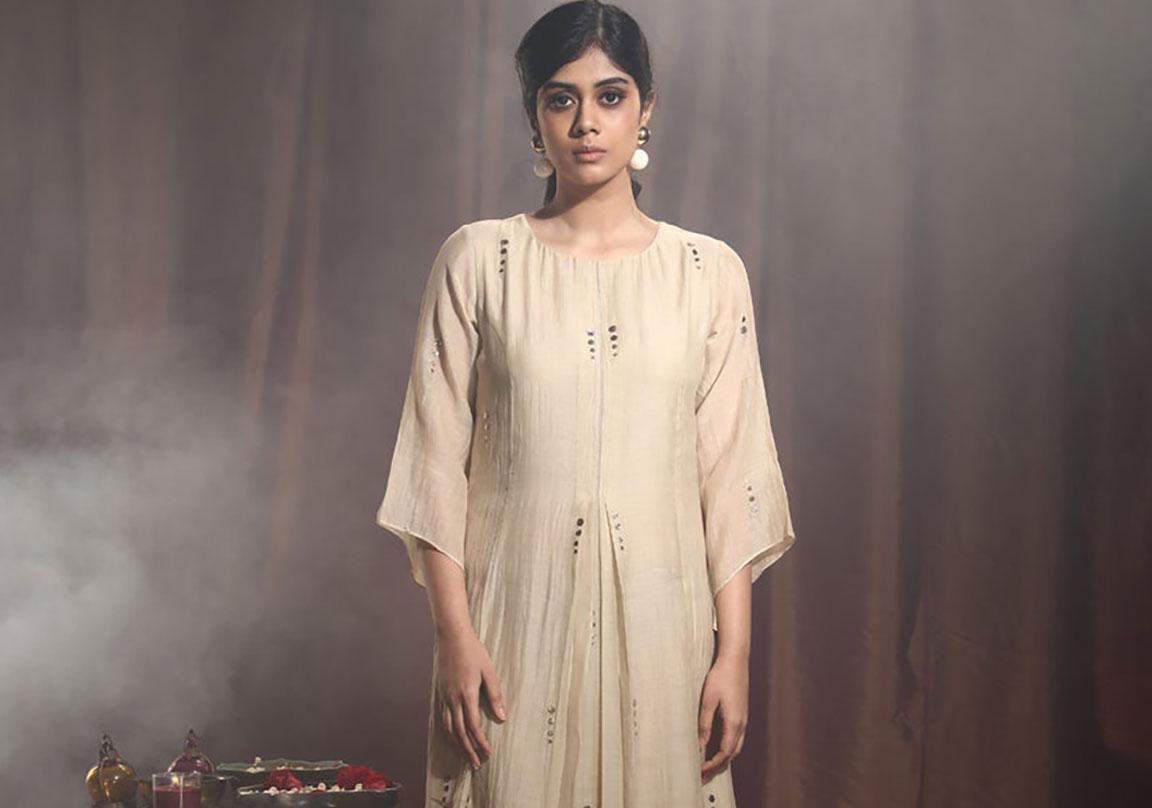 How to ace your daily 9 to 5 and beyond 9 to 5 routine with Raisin
We all must have faced a lot of problems on days when just after office hours we were supposed to be present at an unavoidable event.

Those few days are exasperating. But you can only rant about it in vain. You somehow cannot break the office dress code and neither can you attend the party in your office formals. But wait! Imagine if you could actually do that. How simple life would become for all the women. Well, Raisin is the answer to all your prayers. We have curated designs for the working women so that they can carry off the same apparel at the office and with minimum to no changes, can also straight away rock a function or party in the same dress. Let us present before you some of the most versatile pieces from the collections of Raisin that will get you sorted.

Cream embroidered kurti

This A-line kurti is everything you need to have all the eyes on you at the party. And no, we are not forgetting the office code. This is an A-line kurti with a round neck and 3/4th sleeves. The round neck will guarantee you comfort and the 3/4th sleeves will make sure you are following office rules. The sleeves have a very interesting cut that also elevates the whole design of the kurta. The embellishments are distinct but muted. They are not sparkly but screams chicness. The beige color is predominantly a very classy color. It is appropriate for both day and night functions or events. The small details on the kurti will make you a fan of it. The small slit on the front part of the kurti is a design genius as it gives a flirty vibe to it.

To jazz it up for the party you can style it with contrasting wine colored pants. For the jewellery, you can add some jhumkis to go for a more traditional look or danglers for a western look. Add a gold plated watch and a clutch and you are ready to steal hearts at the function.
Purple embroidered kurta set

Purple is a mixture of calm stability of blue and the fierce energy of red. Therefore, this color expresses royalty and power. This kurta set has a straight high low kurta with very interesting bottoms. The kurta has a very interesting pattern of embellishment on the neck. The round neck makes sure you are comfortable both in the office and at the party. The sleeves are 3/4th with a cut-out at the end which again compliments the whole abstract design vibe of the kurta. Since the kurta is straight and has a geometrical design, it naturally makes you look taller and petite. The bottoms are in a very interesting pattern. This design is a revamped version of the usual salwars that we all have been seeing. The purple color is appropriate for both day and night events. Also, this color is super trendy these days.

In the office, you can simply wear a watch with this outfit as the outfit is a dressy one. But for the beyond 9 to 5 duration you can wear a smart pair of heels and danglers to jazz it up for the party.
Brown embroidered kurti

What can be better than a cotton kurti that is brown to provide that earthy tone and which is also embellished to give the outfit the required depth. We swoon at the look of this kurti and so will you when we will tell you the design brilliance of it. A cotton kurti is undeniably the most comfortable fabric of all times and for everybody. The kurti is straight with slits on both sides. The chocolate brown color truly compliments the tones of Indians. The floral embroidery is very subtle and stands out effortlessly. The V-neck comes with button detailing which makes the neck look longer and attractive.

There are endless possibilities to style this kurta. For office, you can pair it up with beige-colored pants and a watch and juttis. For the party, you switch the beige colored pants with golden ones. Tie your hair up in a messy bun and put on a pair of tan heels. Wear your favourite gold-tone earrings and you are good to go. This outfit will surely make a lot of heads turn.
Pink embroidered kurti

Well, we love this kurti and so will you because it is Bhumi Pednekar's favourite too. This pink kurta screams summer to us. The bright pink color and the embroidered design in yellow and blue looks charming. There is also a tie-up detail on the neck of the kurta which adds a unique design element to it. The kurta is of silk fabric which is a very lush and costly look and feel fabric. The silk fabric looks shiny and this pink kurta will make you glow. This kurta has a straight cut and has a round neck for comfort and convenience. The 3/4th sleeves are the best kind of sleeves in a kurta and this one has a yellow finish on the sleeve ends.

To jazz it up for the evening function, you can go all out and style it in an indo-western look like Bhumi or give it a very vibrant traditional look by pairing it up with contrasting pants. This kurta can be styled in any way you like.
Cream embroidered kurta set

This kurta set has our heart and we recommend it to anyone who wants to ace both their office and after office hours. It would fit on the days when you have to present a meeting at your office and would also be the centre of attention at a party after office. It is made of chanderi fabric which has till now been used to make expensive sarees. The high-low design of the kurta and the straight fit of the pants is what make this set attractive. The pink color of the set with a pink undertone gives it a blush feeling. The embroidery is also subtle yet classy.

For the party, you can opt for a contrasting dupatta to pair with this look. A more busy design would complement this set if you are planning to pull this look in a wedding function. For an evening party, this look could be styled in any way you like. Just make sure you do not accessories a lot with this set.
The Bottom line

These were some of our recommendations for you to ace your 9 to 5 and beyond 9 to 5. Raisin brings out apparels for you in which you will not only feel comfortable from 9 to 5, but would also not have to compromise on it beyond the office hours. The fabrics are ideal for both day and night functions.We guarantee, all you beautiful ladies will attract a lot of compliments both in office and in parties.

Tell us which of these did you like the most. Also, have you checked out our collection to have a look at all the designs that Bhumi Pednekar loves?

Check out https://raisinglobal.com/ to have a look at our collection.