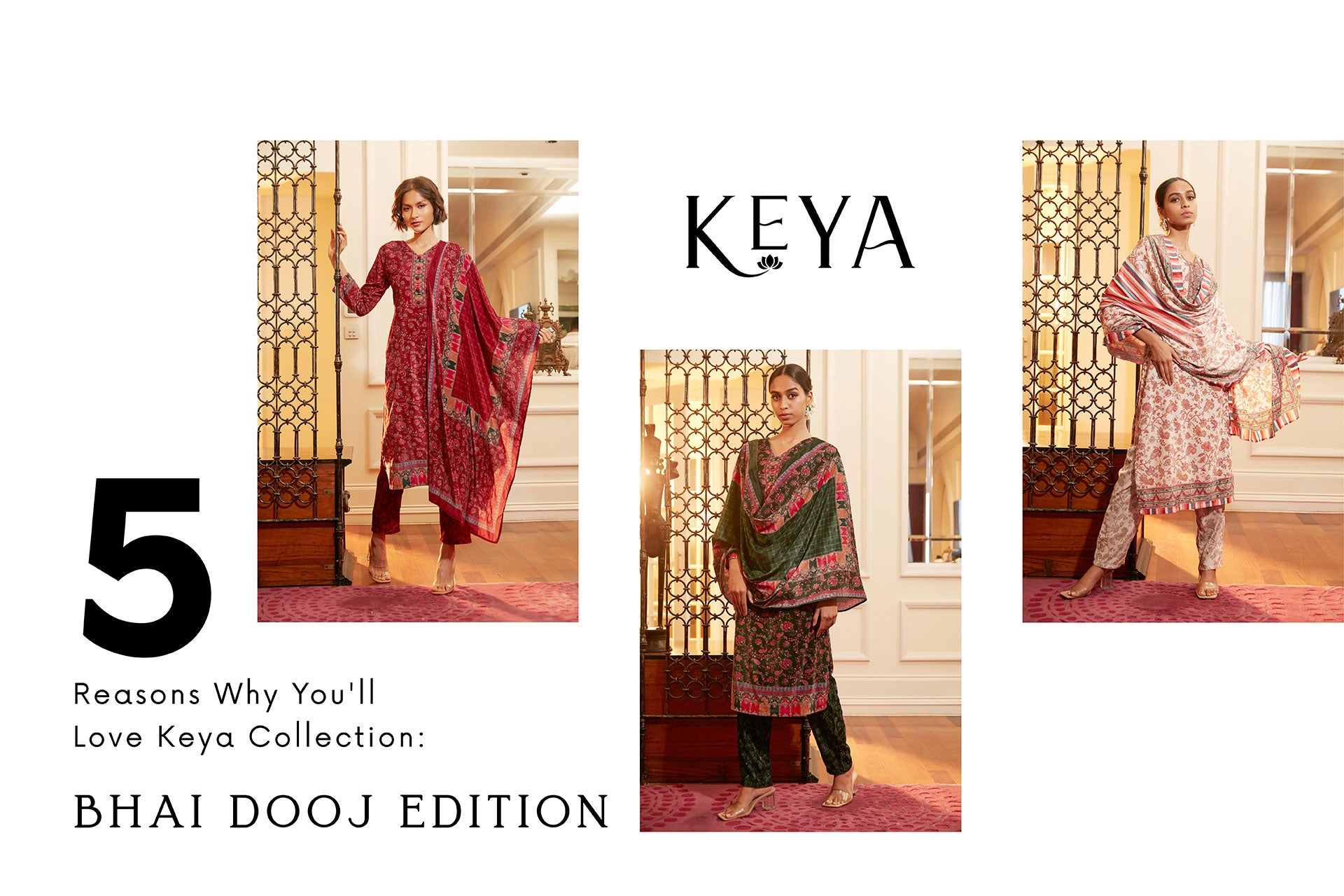 5 Reasons Why You'll Love Keya Collection : Bhai Dooj Edition
We all by now must have selected our Diwali outfits, isn't it? But diwali is a five day festival which starts with Dhanteras and ends with Bhai Dooj.
As much as Diwali is important, the other days of this elaborate five days are too. Therefore, you need to have a beautiful outfit exclusively for Bhai Dooj too.
In this blog we will not only tell you about our latest collection Keya which is a
velvet suit collection
, but will also tell you why you are going to love the velvet suit designs.
Keep reading this blog till the end because you will find product links of the outfits from the Keya collection which are our favourites.
So, Let's get started.
Keya collection: The Exclusive Velvet Suit Design
Keya literally means a Flower. The collection denotes the blooming of flowers even during winter in the form of the beautiful women who will wear these velvet suit designs.
The royalty of these latest velvet suit designs, when combined with the pretty floral kurta sets brings out a never-seen-before amalgamation of traditional and modern, which gives rise to the contemporary style that the world currently is going gaga over.
This entrancing velvet suit sets collection features elegant kurta sets in colours, prints, and designs that encapsulate the vision of an incomparable style for a modern woman. For all the festivities and the upcoming winter soirees, elegant velvet suit designs is what this collection presents.
5 Reasons Why You'll Love The Velvet Suits Of The Keya Collection
There is always a soft corner for certain things in life and velvet suits for ladies is exactly that. Raisin always delivers what our customers want and like, and therefore, the launch of Keya - the velvet suit collection just before the festivals begin was an early present from Raisin to its customers.
Keya is women velvet suit collection
The velvet suits are as comfortable as Raisin has always delivered
These latest velvet suit designs are unique and never-seen-before
This collection presents the best traditional outfit ideas for winter parties.
Traditional outfits with a touch of modernity through the velvet design will make you stand apart from the crowd.
Latest Velvet Suit Designs From Keya collection
Available now on our official website, outfits from the Keya collection by Raisin can be made yours, head up here -
*Explore Keya Collection Here*
Let us tell you some of our favourites from the collection. These are our favourites because they also show the range of designs and colours this collection has.
A cream coloured printed velvet kurta set with pants and dupatta gives the feeling of spring in winters.
For the dark shade lovers, here's a printed velvet suit set in the trending dark green colour to rock this winter season in your favourite colours.
And we have printed velvet suits in even the most amazing and evergreen maroon colour too.
No, we couldn't have missed the bright yellows. So what if it's winter, we will never stop wearing our favourite colours!
You asked for purple, we give you this amazing shade in the printed velvet suit set!
Parting Note!
Raisin
is your forever companion and go-to brand for all your clothing needs, be it for any occasion or event.
Raisin's latest collection Keya is all set to make your 5th day Diwali event - Bhai Dooj even more special.
And not just the festivals, the Keya collection is all set to make your winters colourful and floral with the amazing designs and patterns on velvet suits.
Check out the
collection
, buy your favourites, and dress yourself up in this never-seen-before collection. Post pictures on social media and don't forget to tag us.
Recommend this collection to your friends and twin with them and become the most stylish group of friends in your circle. Hurry! Buy now!